Beyer Future Farmers of America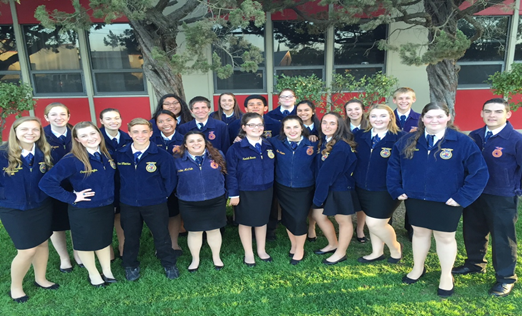 Beyer High FFA continues to strive toward excellence in several aspects of student life. In addition to providing exceptional education, the Beyer FFA continues to be active in student leadership development, events and achievements. This semester students have participated in activities such as speaking competitions and sectional leadership conferences. Here are some of the highlights.
Many Ag students were involved in Opening and Closing Contest, a speaking competition in which a team of six students each recites a portion of the speaking part from memory. The intermediate team won a silver medal at the sectional level and 3rd at the Oakdale level. Alexis Wyrick and Bethany Davis won outstanding president and outstanding president on the intermediate team. The advanced team won 4th overall at the sectional level and at the Oakdale competition. At the Oakdale competition, Danny Stanfield and Cierra Douglas received the Outstanding Secretary and Outstanding Treasurer awards.
The Beyer FFA officer team attended the regional Chapter Officer Leadership Conference on October 3rd and was given new and improved techniques in order to better interact with the FFA members and to spread the word about FFA in the community.
Beyer FFA's Annual Harvest Festival was held on October 28th and had a very positive outcome. Over 200 people attended and were entertained with more than 40 games put on by Beyer Ag students. Students were encouraged to bring younger siblings and family members. In addition to games, there was barbecue, candy, and a haunted house put on by the art club. Beyer FFA would like to extend a huge thank you to Rich and Gloria McDonald for providing 275 snow cones to all attendees at no cost. Thank you for your donations.
In addition to attending and holding many activities, Beyer FFA also works hard in their Ag classes, with competent and experienced teachers preparing informative and interesting lesson plans and hands-on learning opportunities.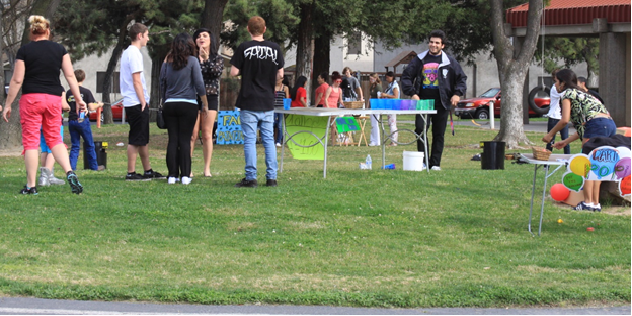 Floral Design:
The Floral Design Pathway provides an onsite floral shop operated by Beyer students. The shop specializes in fresh cut tabletop arrangements for events, home or office. All orders can be placed through the Ag. Department at Beatty.s@monet.k12.ca.us.
Small Engines:
The Beyer Small Engines Team begins training January after school in the Ag. Shop. This team travels to competitions hosted by colleges and universities throughout California. This team is currently ranked 1st overall in the state, and also holds State Championship titles from 2007, 2011, 2013, and 2015. Any FFA students interested in participating on this team should contact Mr. Wolfe and attend the informational meeting in January.
The small engines program is accepting any lawn and garden equipment as donations to the program. Lawnmowers, leaf blowers, and string trimmers do not need to be operational. Students are able to use equipment in any condition for repair, parts or recycling.
Ag Science:
The Ag Science 1-2 class is preparing a team for B.I.G. (Best Informed Greenhand) which will compete in December at the Sectional level. Beyer FFA will also have a student competing in the Creed. This year Mrs. Kerlee will be coaching a farm records team that will compete at several community colleges and universities. If you are interested in this team, please see Mrs. Kerlee the beginning of the second semester. The animal science class is raising forty chickens as they learn about management, weight per day of age, and health care.